Open Image – Click to copy code
Researchers of different universities have claimed that unique benefits to solar energy and energy sector can be brought by nanotechnology. Reduced manufacturing costs and better materials efficiency provides good economic benefits for nanotechnology. Due to continuous development in the field of nanotechnology, solar cells will be cheaper, there will be extension of battery storage capacity and for electric cars, the lifetime of solar cells can be increased.
Image Credit: goo.gl/1w9OxU
The Increasing Popularity of Nanomaterials
In case of industry research, nanotechnology plays an important role. The nanomaterials which have more importance are nano-coatings, nano-fluids, nanocarbons, nano-composites, etc.
Image Source: goo.gl/GtJE3z
We can use nanotechnology to increase the energy and light generation of organic solar cells or crystalline silicon solar cells to manufacture these solar cells, less materials are required. These solar cells are very cost efficient.
Nanomaterials can be used to increase the energy storage capacity of lithium-ion batteries. Since the 90s decade, for energy storage, this is the most important battery technology. There is a constant demand for electric vehicles. The success of these vehicles is directly linked to battery performance.
Nanotechnology Application in Solar Power Generation
Image Source: goo.gl/jDvLhF
Nanotechnology is heavily used in energy storage and generation of solar power. In global production of energy, the share of fossil fuels has decreased to 75% by 2035. Based on the overall energy production, renewable energy will contribute more significantly. With the help of nanotechnology, there is further development of solar cells and there is improvement in energy storage.
In some fields, nanotechnology is the key to success. To enhance the use of renewable energy, nanotechnology can be used more.
Role of Nanotechnology To Address The Energy Challenge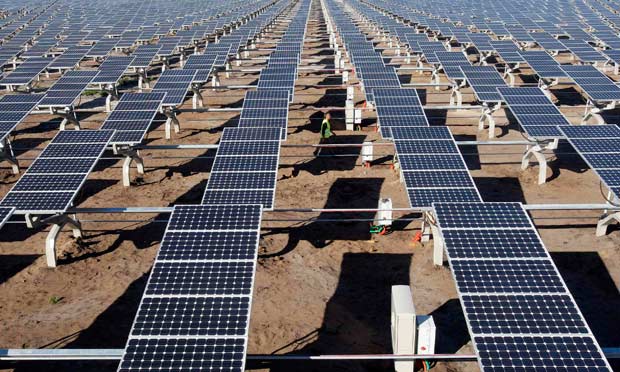 Image Source: goo.gl/JYB3YW
The potential of nanotechnology can be evaluated and the nanomaterials help in addressing the energy challenge. By 2035, there is a global energy demand's increase of about 30%. The success of renewable energy depends completely on nanotech materials.
At last it can be said that nanotechnology immensely used in the storage of solar energy. Due to the applications of nanomaterials, the demand for solar energy will increase and their cost will decrease.
Tag(s) :

solar cells

,

nanotechnology

,

nanomaterials

,

renewable energy

,